West Palm Beach, FL (December 2, 2018) - A West Palm Beach Police officer faces charges after being accused of stealing over $1,000 from a suspect that she arrested.

Nicole Palladino was taken into custody on Thursday, November 29th in connection with the allegations.  Officially, she has been charged with grand theft, official misconduct, and possession of a controlled substance.

In October, Palladino responded to a call regarding a driver being stopped at a stoplight on I-95.  When she arrived on the scene, Palladino noticed that the driver was asleep at the wheel.  Upon rolling down the window, Palladino reportedly smelled a strong odor of marijuana and ordered the driver, Timothy Saintil, out of the vehicle.

Palladino searched Saintil's vehicle, where she located a handgun and several illegal substances, including ecstasy and heroin.  Another officer searched Saintil's person and located a large sum of cash.  The cash was placed in a plastic bag and taken into storage.

Officers later discovered that only $48 remained in the bag.  A search of Palladino's patrol car produced $1,003 in cash and ecstasy pills.  Review of video footage allegedly showed Palladino counting the money but the video was later abruptly turned off.
Theft Crimes in West Palm Beach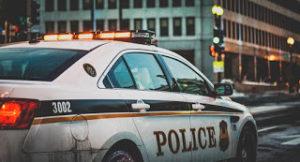 Under Section 812.04 of the Florida Statutes, theft is defined as knowingly using or obtaining the property of another with the intent to deny access to the property by the rightful owner.  In West Palm Beach, there are varying degrees of theft crimes depending on the amount and type of property taken. Grand theft is a felony which is punishable by up to 30 years in prison and a fine of $10,000.

If you have been charged with a theft crime in West Palm Beach and surrounding areas, you need an experienced and aggressive defense.  The attorneys at Musca Law will closely analyze the facts and the law in each case to ensure that your rights are fully protected.  We will be your strongest advocate when the weight of the justice system is against you.

With over 150 years of combined experience and offices throughout the state, we are equipped to handle any type of Florida criminal defense matter. For your free consultation, please call us at (888) 484-5057.