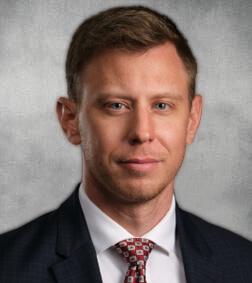 Andrew J. Draper
Andrew J. Draper is an experienced and aggressive trial attorney whose experience as both a prosecutor and a criminal defense attorney have given him the skills and aptitude to defend any type of case in the criminal justice system. 
Mr. Draper graduated Cum Laude from West Virginia University with a degree in Political Science.  He then moved to Florida for law school and graduated from Florida Coastal School of Law with special recognition and honors in completing over 125 of pro bono legal service work for those in the community.
Upon graduation, Mr. Draper began his career at the Office of the Public Defender in the 10th Judicial Circuit in Polk County, Florida.  During that tenure he handled both misdemeanor and felony cases, as well as representing clients in the specialty felony violation of probation division.  While at the Office of the Public Defender Mr. Draper was selected to attend the Gerald T. Bennett Prosecutor/Public Defender trial training school and was one of four attendees to receive special recognition for trial advocacy skills.  
After leaving the Office of the Public Defender, Mr. Draper accepted a position as an Assistant State Attorney in the 7th Judicial Circuit where he assisted in the creation of a specialized Domestic Violence Unit focusing on the investigation and prosecution of all misdemeanor and felony domestic violence cases.  In addition to his responsibilities prosecuting domestic violence cases, he conducted circuit-wide training for law enforcement in the investigation and collection of evidence in those cases.  He also was the appointed prosecutor in Volusia County's Veteran's Court which included comprehensive training in issues with veterans in the legal system, PTSD recognition, and assisting those veterans with services in the community.
Mr. Draper continued as an Assistant State Attorney in the 12th Judicial Circuit where he prosecuted cases from misdemeanor DUIs to felony Drug Trafficking, Aggravated Battery, and 1st Degree Attempted Murder.  He was also given the responsibility of conducting domestic violence training to local law enforcement agencies and instructed at the police academy in issues relating to various levels of criminal culpability and involvement.  During that time, he also participated in over 200 hours of training in the areas of DUI procedures and investigation, crimes against children, and accident-reconstruction techniques for investigating DUI manslaughters.
For a brief period, Mr. Draper worked at the prestigious civil litigation firm of Banker, Lopez, Gassler P.A. in Tampa, Florida in their civil trial division litigating wrongful death and negligence claims.  During that practice he gained valuable experience analyzing complex medical records, expert medical opinions, and conducting in depth depositions of plaintiffs and medical experts.  After a short period, however, he realized his true passion is defending the rights of the accused. 
Mr. Draper provides zealous advocacy for his clients through each stage of the criminal process.  He firmly believes that each person deserves the time and attention of a dedicated legal representative and will aggressively fight for your rights to obtain the best possible outcome on behalf of all his clients. 
Tampa Office
Musca Law
625 East Twiggs Street, Suite 1000, Unit 117
Tampa, FL 33602
(813) 362-5623