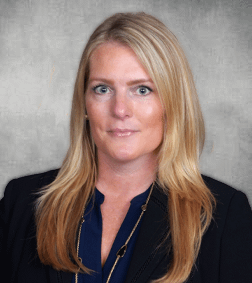 Cassidy Gordon Sterle
Born and raised in Jacksonville, Florida, Cassidy Sterle obtained her Bachelor's degree from the University of Florida and Juris Doctor from Florida Coastal School of Law. Cassidy began her career as an Assistant Public Defender in Florida's Fourth Judicial Circuit. Cassidy started with misdemeanor cases and worked her way up through the ranks. At the end of her 12-year tenure with the Public Defender's Office, Cassidy was a supervising attorney and was handling complex and serious felony cases ranging from Attempted Murder, Carjacking and Sexual Battery.
While working as a Public Defender, Cassidy became passionate about criminal defense and the rights of accused persons in the criminal justice system. She believes that criminal defense attorneys are the watchdogs of the justice system and are the first and sometimes only line of defense for someone accused of and arrested for a crime.
Cassidy is prepared to work diligently on your case. She has extensive experience handling all types of criminal cases and has developed the necessary skills to help you navigate through any challenges your case might present. She will fight for your rights both in and out of the courtroom.