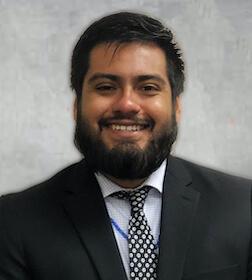 Juan Delgado
Juan graduated from the Ave Maria School of Law, where he was a member of the Moot Court Board and of several teams that would compete against other law students and law schools. Juan is a fluent natural Spanish speaker and was always relied on to translate for attorneys and their clients.
He is very comfortable translating complex litigation from English to Spanish and vice-versa and strives to ensure that all clients fully understand their rights and duties in litigation.
Juan has a background in a variety of civil litigation fields, including time at the Legal Aid Society of Collier County, where he focused on Consumer Defense, specifically on indigent defense, fraud, small business litigation, and discovery. Since then he has worked for various smaller firms assisting the managing partners on business litigation, home insurance claims, and civil tort claims
After a short stint with the Office of the Public Defender for the 20th Circuit, he decided to pursue a career in criminal law, in order to defend his clients with zealous advocacy and ensure that they always have their shot at a fair trial. He is also a native Floridian and an amateur fisherman.