Brooksville, FL (January 26, 2019) - A Brooksville man faces several domestic violence-related charges following a standoff with police on Thursday, January 24th.

Officers responded to Evergreen Avenue upon reports of a fight at the residence.  When they arrived, a woman inside the residence told them that her boyfriend, 29-year-old Trevor Schreffler had punched her in the face.  She also said that she lost consciousness and that Schreffler would not allow her to leave their camper.

Schreffler was barricaded inside the camper when officers got to the scene.  They were unable to convince him to come out after several attempts and eventually forced their way inside with the help of a K-9.  Schreffler was in possession of pistol when police made entry.  After failing to drop the pistol, he was attacked and bitten on the ankle by the K-9.

Schreffler was then taken into custody and charged with Domestic Battery, False Imprisonment, Aggravated Assault on a Law Enforcement Officer and Resisting Arrest without Violence.
Brooksville Domestic Battery Laws
A charge of domestic battery in Florida must be taken very seriously.  Prosecutors and judges throughout our state take a tough approach to domestic violence and will often seek maximum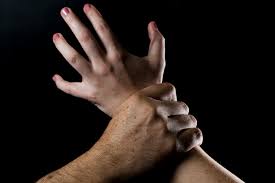 punishment for those convicted of an act of domestic violence. In a worst-case scenario, this means that you are looking at a jail sentence, anger management classes, a long period of probation, civil restraining orders and more.

In addition, if you are convicted of a crime of domestic violence involving assault or battery, you could lose your rights to own or possess firearms under federal law.  Many people are unaware of this collateral consequence, however, it can certainly have a major impact on your life down the road.

With the stakes so high, it is important to have the best possible legal representation by your side.  At Musca Law, our Florida violent crimes attorneys have decades of experience defending those accused of domestic assault, domestic battery and more.  With our help, many of our clients are able to avoid the worst consequences of a conviction for domestic violence.  We will look into all of your options including reduced and dismissed charges or diversion programs that will help keep your criminal record clean.

For a free consultation, please call us at (888) 484-5057.  We are standing by waiting to hear from you.