Cape Coral, FL (December 13, 2018) – Police say that a Florida woman struck a police officer with a chunk of concrete and threatened to kill another officer on Coral Parkway East.

The incident began with a call made to 911 by a woman was has now been identified as 37-year-old Jessica Blick. She apparently called 911 requesting an ambulance but did not give much more information. The Cape Coral Police were sent out to the location to investigate the 911 callers request for help.

Police officers approached a woman they witnessed walking down the street with a cell phone in one hand and a large concrete rock in the other.  They asked her if she was the person who made the call to 911 requesting an ambulance but she just walked away.  Another police officer walked towards Blick when she suddenly drew back her arm and stated that she was going to throw the concrete rock at the officer.   As the officer continued to approach Blick, she ran out into the middle of the roadway on Coral Pkwy E.  into traffic. 

One of the officers tried to tase Blick but missed her.  That is when she turned back and took aim at one of the officers, hurled the large rock and hit the officer in the shoulder with it.  Police were able to wrestle her to the ground and place her in handcuffs a few moments later.  Once handcuffed, Blick proceeded to kick one of the arresting officers in the leg and groin.  That resulted in Blick being sprayed with pepper spray by police.

Blick was taken to a hospital where she received treatment for injuries sustained in the tussle.   She was then transported to Lee County Jail and was charged with aggravated assault on a law enforcement officer and violently resisting arrest.

Police continue to investigate the circumstances of the incident.
Cape Coral Aggravated Assault Laws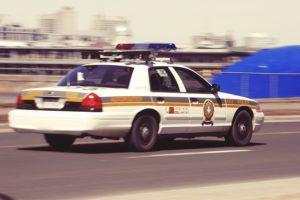 Florida law views aggravated assault, under any circumstance, as an enhanced type of assault charge with an intent to commit a felony. The penalties for these types of crimes can be quite severe, with minimum mandatory prison sentences. You could be facing the reality of up to 5 years in prison, 5 years of probation, and a $5,000 fine. These violent crimes under Florida law are taken seriously in the eyes of the court, which is why it is imperative to have an experienced criminal defense attorney on your side through every step of the process.

Across the state of Florida, the lawyers at Musca Law have helped countless Florida residents that have been charged with a violent crime get the best possible outcome for their cases.  We would be happy to help you too. We will treat you with a high level of personalized service, paying extreme attention to every detail in your specific case. In the past, we have helped a variety of clients and have case results to prove it.  Our lawyers will work with you through every step of the criminal system process, from interrogations to trial. Do not hesitate to reach out to us today for the help you deserve at (888) 484-5057.