Collier County, FL (December 11, 2018) – Police say that, on Sunday, a woman was killed by her husband as what can only be described as an act of domestic violence.   The woman was shot and killed in the driveway of her Golden Gate Estates home. The suspect was arrested and has been identified as 52-year-old Raymond Colon.

Colon allegedly shot his wife multiple times in the driveway of their shared home. She was identified as 49-year-old Victoria Colon.  Her injuries were life-threatening and she was transported to a local hospital for treatment.  She sadly did not survive the injuries and was pronounced dead at the hospital later that afternoon.

Multiple people in the area called 911 after hearing several shots being fired and witnessing Raymond in his driveway with a handgun. Raymond immediately fled the scene after shooting his wife.  He drove off in his SUV but then decided to head by to his home where he met police.

A deputy had just pulled up to the home when the white SUV that Colon had been driving pulled in directly behind him.  The deputies took Raymond into custody and located Victoria Colon lying in a pool of blood in her driveway.

Raymond Colon has since been arrested and booked into the Naples Jail Center for a murder that was not premeditated and for committing a felony with a weapon as well as aggravated battery.
Collier County Murder Laws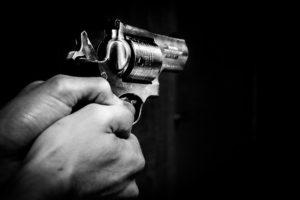 Being charged with murder is one of the most serious crimes that you can face in the criminal justice system. If you have been charged with murder in the state of Florida, you need to hire an attorney that has experience handling these types of complex cases.   A person who commits one of these types of crimes with violent intentions could be facing several years in prison and a variety of different penalties that could have a huge impact on the rest of your life and the way you live it.

At Musca Law, we understand how important it is to have an attorney who will treat you with a high level of personalized service making sure that you are part of every decision made regarding your case.   We want to pay close attention to every detail of in your case and help you understand every part of the criminal justice process from initial interrogations to trial. We believe that your freedom is important and want to help you get the best possible outcome for your charges. If you have been charged with a crime in Florida, let us help you.  Let us help you obtain case results that have you looking at a different outcome in life. Contact us for more information at (888) 484-5057.