Daytona Beach, FL (December 17, 2018) – Police have arrested a man after he shot in the direction of his girlfriend and another man. The Daytona Beach Police Department investigated. The incident happened around 12:40 p.m. near Madison Avenue and Beach Street. Luckily, nobody was injured at the time. Victims told officers that the woman was driving and she picked up a man at the Citgo gas station in the area of the Martin Luther King Jr. Boulevard. The two left the station together, which is when the woman's boyfriend noticed them and started following them. The woman and her male friend confronted the boyfriend, which is when the other man retrieved a 9-mm handgun. The boyfriend shot at the pair but neither of them were struck by bullets. The man fled the scene but officers were able to track him down. The man was arrested with aggravated assault with a firearm.
Daytona Beach Aggravated Assault Laws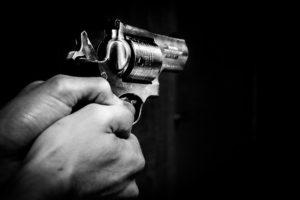 Crimes of aggravated assault happen when somebody tries to cause serious bodily injury to another person. In many cases, these crimes will be charged as a felony. You could spend four months or up to 15 years in prison and a wide variety of fines and other penalties. Aggravated assault, especially crimes involving weapons, are very violent Florida crimes to defend yourself against and you will need the experienced help of a defense attorney to help you through these crimes. At Musca Law, we are fully committed to helping you receive results and work toward the freedom you deserve after you believe you were wrongfully charged with a crime. Our attorneys are skilled in all aspects of the criminal justice system, from interrogations to the actual trial. With over 150 years of combined experience handling these cases, we will help you every step of the way. Do not hesitate to contact us to get started today at (888) 484-5057.