Fort Lauderdale, FL (March 17, 2019) - A Fort Lauderdale man has been arrested in connection with a January bank robbery after being identified by his tattoos.

30-year-old Elliott Watson was seen on surveillance video in the parking lot of a Bank of America at 3883 West Commercial Boulevard around 12:40 p.m. on January 4th. Watson confronted a customer who had just left an ATM, demanded items from the customer, and eventually left with the customer's cellphone and bank cards. Watson later tried to use the credit card multiple times that same day.

Detectives were able to identify Watson through the distinctive tattoos on his arms. He was arrested and charged with grand theft, robbery, and fraud. He was placed in the Broward County Jail under a $35,000 bond. Police are still looking for Watson's accomplice, who was also seen on the video.

Anyone with information should call Detective Mark Copley at 954-321-4738.
Fort Lauderdale Robbery Laws
Being accused of robbery in Fort Lauderdale will naturally cause feelings of fear and anxiety regarding your future. Robbery is a serious violent crimes charge that can carry years in prison as well as lengthy probation sentences. If convicted of robbery, you will also have the status of being a convicted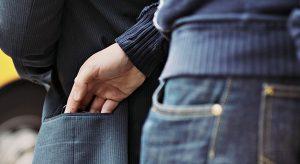 felon. As a convicted felon, you will be unable to exercise certain basic rights such as the right to own a firearm. Potential employers may pass you over with such a severe crime on your record.

At Musca Law, our Florida violent crime attorneys can help if you are facing a robbery, burglary, assault or other violent crimes charge in Fort Lauderdale and nearby areas. Our team brings over 150 years of combined experience to your case and we have the skills and local knowledge that is essential to obtaining a positive outcome for you. We know that you need help during this difficult time and we take pride in defending those accused of serious crimes.

Our phones are answered 24 hours a day, 7 days a week. To set up your free consultation with one of our Fort Lauderdale criminal defense attorneys, please call us at (888) 484-5057.