Fort Lauderdale, FL (April 28, 2019) - Three robbery suspects have been arrested after a police chase in Fort Lauderdale on Friday, April 26th.

According to police spokeswoman Casey Liening, officers spotted a black Jaguar that they suspected had been involved in a robbery earlier in the day.  As officers began pursuit, the Jaguar starting weaving in and out of traffic and driving erratically towards Sunrise Boulevard.  Three of the suspects eventually jumped out of the Jaguar and fled on foot, being chased by dozens of officers.

The suspects, who have not been identified, were eventually apprehended and arrested in connection with the robberies.  One of the robbery victims, Mike Michaelidis said the suspects approached him while he attended a meeting and demanded his car keys.  Michaelidis refused and the suspects drove away to locate another victim.

No additional details are available at this time.
Fort Lauderdale Violent Crimes Laws
Robbery is a Florida violent crime that can have you facing many years of your life in prison if convicted.  Under Florida law there are varying degrees of robbery depending on the circumstances of the crime, including whether a deadly weapon was used in the commission of the act.   All robbery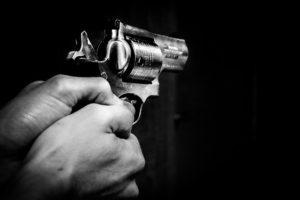 charges are felonies and a conviction can have negative impacts on your future.

Not all robbery cases are open and shut.  Often times, these crimes depend on eyewitness identifications.  These identifications may be flawed for a number of reasons, including the general inaccuracy of eyewitness recollection and suggestive photo lineups used by police officers.  In an effort to make an arrest mistakes may be made and it is possible to be wrongfully accused of a committing a crime that you had nothing to do with.

If you find yourself facing a robbery charge in Fort Lauderdale and surrounding areas, our Fort Lauderdale criminal defense attorneys at Musca Law can help.  We bring more than 150 years of combined experience to your case and we can assist you when your future is on the line.  For a free consultation, please call us any time at (888) 484-5057.