Gainesville, FL (April 26, 2019) – Police arrested 28-year-old David Breschard Jones on charges of aggravated battery after he allegedly swung a knife at a co-worker, cutting him.

The incident took place yesterday around 8:45 a.m. when Jones and the other co-worker got into an argument for reasons that are not known. Jones grabbed a knife that was sitting on the counter and swing it at the co-worker, cutting his neck and forearm.

The Gainesville Police were called to the scene to investigate. While there, Jones told them that he was acting in self-defense. He claimed that he had been backed up against tables in a food prep area and that his co-worker blocked the exit and stopped him from leaving.

Police claim that Jones was booked in the Alachua County Jail and has a $10,000 bond. The investigation into the incident continues.
Gainesville Aggravated Battery Laws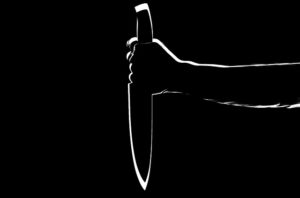 Facing violent crime charges in Florida can be a difficult thing to endure. Every year, many individuals are charged with aggravated battery and other related crimes. These charges can bring about severe penalties depending on the circumstances of your case, with consequences including fines of $10,000, time in prison, probation, and more. It might keep you from obtaining a career that you desire and violent charges can also have an impact on your social relationships, which is why it is imperative to act quickly and retain the help of an experienced attorney.

At Musca Law, our dedicated and compassionate criminal defense attorneys have spoken with many clients who were in your shoes and helped them obtain proven case results during one of the most difficult times in their lives. These can be stressful charges to face and you might be feeling scared from the initial interrogation and first steps following your arrest, which is why you need legal help who will ensure you that your rights are being protected from the start. Please contact us at (888) 484-5057 to find out how we can assist you.