Gainesville, FL (August 11, 2019) - A Gainesville man was arrested this past week on charges that he robbed a man in the city's Power District.  28-year-old Taj Perry was arrested on Sunday, August 4th.
Reports indicate that Perry was walking in the 100 block of SE 6th Avenue when he approached a man and asked him for money.  The man replied that he did not have any money.  Perry responded by snatching a fanny pack from around the man's neck.  When he grabbed the fanny pack, $500 in cash fell out.  Perry grabbed the money and ran from the scene.
When he was apprehended by officers, Perry told them that the man offered him $20 for sex but that he slapped the money from his hand before a fight ensued.  Perry was officially charged with unarmed robbery and was taken to the Alachua County Jail.
It is unclear if he remains in custody at this time.
Gainesville Violent Crime Laws
Being charged with a Florida violent crime can be a life-changing moment.  Many violent crimes, such as robbery, can have long-term negative consequences.  Under Florida law, the crime of robbery is a felony that can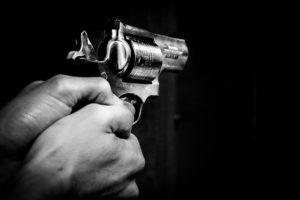 land you in prison or on probation for a number of years.  Additionally, upon being convicted of a felony, you could face a loss or restriction of many important rights that you had prior to your conviction.  
If you are facing a Florida violent crimes charge, the Florida criminal defense lawyers at Musca Law will have your back.  We understand the intricacies of the criminal justice system and the defenses that you may have to these types of cases.  We will carefully explore all of your legal options and ensure that we put your best defense forward.  When your future is on the line, it is important that you seek the advice of the best lawyer you can find.  
Our dedicated team of Gainesville criminal defense lawyers is ready to fight for you today.   For your free consultation, please give us a call any time at 888-484-5057.