Gainesville, FL (February 18, 2019) - A deputy from Alachua County was arrested on charges of domestic battery and more after he held his girlfriend captive and strangled her, allegedly threatening to kill her if she went to the police.

29-year-old Joseph Clayton Sperring was arrested for domestic battery by strangulation, false imprisonment, and simple battery. The victim went to police on Friday morning, where she told them that she had been held overnight against her will by her boyfriend, whom she had been dating for two weeks.

When she came home from a date with Sperring around 2:00 a.m., he accused her of cheating and kicked her out of the house. However, when she was trying to leave, he carried her back inside and pushed her against the wall, choking her.

Sperring took away the woman's phone and car keys, telling her that she would not be able to leave. When she tried to call out for help, he put his hand over her mouth. The victim told police that she believed that Sperring was about to kill her and that she was being held hostage by him.

Sperring finally allowed her to leave around 8:45 a.m., which is when she went to police, even though he told her that he would kill her and her family if she did. Sperring was previously arrested in July 2017 when his ex-girlfriend alleged that he put a gun in her mouth and threatened to kill her.
Gainesville Domestic Battery Laws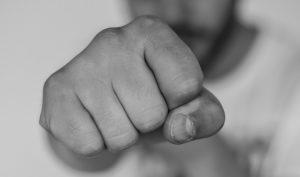 If you have been charged with a violent Florida crime, it might be one of the most difficult things you will ever encounter. Facing domestic battery charges after being accused by a family member or a significant other is an extremely frightening time, as the pressure is on to defend yourself against charges that could heavily impact your future. Violent crimes can lead to some of the most severe penalties, such a criminal record that will follow you through life and even keep you from certain career choices. This is why it is imperative to speak with an attorney if you have been accused of a domestic battery crime.

Domestic violence is viewed as an intentionally violent crime by the courts and typically involve immense harm to another person. You might be facing probation, fines, and even months to years in prison, depending on the circumstances of your case. If you believe that you have been wrongfully accused of domestic battery, or you believe that the other party is telling stories that are not true, it is important to have a knowledgeable attorney defending you every step of the way. Please do not hesitate to contact us at Musca Law to find out how we can help in your time of need, at (888) 484-5057.