Jacksonville, FL (December 9, 2018) - An assistant principal at a local elementary school was arrested on Thursday, December 6th in connection with theft charges.  John Collins, the assistant principal at John Stockton Elementary School was taken into custody at the Duval County School Police Department headquarters.

Collins is accused of misconduct in connection with a school donation from an orthodontist's office.  Police say that Ortega Orthodontist made a donation to Stockton and handed a check to Collins for the donation amount.  Subsequently, an Ortega employee noticed several unusual transactions connected to the company bank account.  Among the transactions was an insurance premium in the amount of $525 and labeled with Collins' name.  A second transaction appeared to be a rent payment to Collins' apartment complex.

Collins has been placed on leave while the investigation continues. In a statement issued by the Duval County Public Schools, the district stated its intention to pursue Collins' termination.
Theft Crimes in Jacksonville
A Jacksonville theft crime brings with it harsh penalties such as jail time, probation, fines restitution, and community service.  Grand theft in Florida is a felony which is punishable by up to 30 years in prison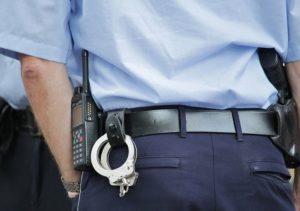 and a fine of $10,000.  In addition, a person convicted of grand theft will have a felony on their record.  Having a felony conviction threatens your future and limits where you can work and live and may also impact your civil rights, such as the right to vote and the right to own a firearm.

When the stakes are high, you need an aggressive Jacksonville criminal defense attorney to protect your rights.  At Musca Law, our attorneys do not back down from the fight.  It is our job to ensure that our clients are treated fairly and that their legal rights are protected in the criminal justice system.  We will balance the scales on your behalf.

Our firm has over 150 years of combined experience in Florida criminal defense and proven results in past cases.  For your free consultation with a Florida criminal defense attorney, please call (888) 484-5057.