Jacksonville, FL (July 21, 2019) - A former Duval County Public Schools bookkeeper was arrested by police and charged with stealing thousands of dollars while working for the school district.
32-year-old Tamika Martinez-Abihai was arrested by Duval County School Board police in connection with the incidents.  According to reports, Martinez-Abihai was hired as a bookkeeper at Normandy Village Elementary School in August 2016.  In August 2017, she was transferred to Raines High School before being leaving for Westview K-8 in April 2018.
Following a nearly year-long investigation, police discovered that Martinez-Abihai created fake invoices showing purchases that she made with her personal credit card.  She then submitted the invoices and obtained reimbursement from the district.  Martinez-Abihai was later terminated from Westview for what the principal called "erratic" work and poor job performance. 
She has been charged with seven counts of organized fraud, three counts of grand theft and two counts of petty theft.  Martinez-Abiahi was taken to the Duval County Jail.  She has since bonded out and is awaiting a court date. 
Theft Crimes in Jacksonville
A Florida theft crime must be taken seriously.  There are various types of theft crimes in our state and many theft crimes, including grand theft, are felony offenses that bring the potential of a long jail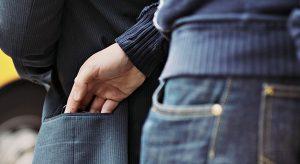 sentence and a felony conviction on your criminal record.  A conviction for a theft crime, especially a felony, can make it extremely difficult for you to obtain employment and secure your future.
Theft crimes should only be handled by a skilled and experienced Florida criminal defense attorney.  At Musca Law, our team brings a combined 150 years of experience to your case.  We can help when you are facing a theft charge or other offense anywhere throughout our state, including Jacksonville and surrounding areas.  
Our Jacksonville criminal defense lawyers are ready to fight for you.  We offer free consultations and case reviews to all potential clients.  To speak with us and find out how we can help you, please give us a call any time at 888-484-5057.