Lake County, FL (November 28, 2018) – A woman from Fruitland Park was arrested after she was involved in a fight with her ex-husband's new girlfriend. The incident happened in Lake County.

46-year-old Lori Davis and her husband recently had their divorce finalized and he had been staying in the family home pending its sale. Davis scheduled to go to the home two days ago, November 26, so that she could collect some of her possessions. When she did so, she found that a strange vehicle was parked next to her husband's vehicle. Davis entered the home under the presumption that the vehicle belonged to the husband's new girlfriend. Davis found the ex-husband and his girlfriend hiding behind a door in a bedroom.

The three got into a heated verbal argument.  That's when Davis hauled off and assaulted the new girlfriend of her ex before slamming her head into a wall. The girlfriend ran outside and got into her vehicle. Davis followed her and continued kicking the vehicle, which did cause damages.

The window on the car was down and Davis then punched the new girlfriend in the face. Lori Davis has since been arrested on charges of battery and criminal mischief.
Lake County Battery Laws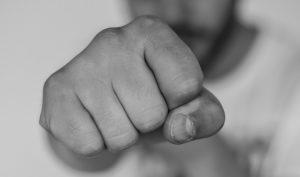 Assault and battery typically go hand-in-hand when it comes to criminal charges; however, a battery occurs when the suspect follows through and actually makes contact with the victim. The prosecutor must show that the defendant intentionally touched or struck the victim. If you are charged with even a simple battery, which is the smallest charge, you could be facing a prison sentence of a year with fines up to $1,000. This is why it is important to have an experienced attorney standing by your side every step of the way to achieve case results you deserve.

The attorneys at Musca Law have more than 150 combined years of experience handling all types of criminal matters and always work hard to get the desired results for our clients.  It is essential for you to have a legal advocate on your side who understands the many ins and outs of battery crimes in the Orlando area and surrounding cities in Florida. Our attorneys want to serve you to ensure that your rights are protected every step of the way. Contact us for more information at (888) 484-5057.