Lake Worth, FL (February 4, 2019) – The Palm Beach County Sheriff's Office arrested 27-year-old Robert Nunn after a body of a man was discovered in the front yard of the victim's home this past Tuesday.

32-year-old Ismael Reyes Cabrera was found shot to death in front of his home by his brother on Tuesday afternoon. Deputies responded to the home on K St. and found that the victim was deceased from multiple gunshot wounds.

Robert Nunn and the victim were communicating via text in the early hours of Tuesday morning about a television set that the victim was selling.  Nunn arranged to meet with the victim at his home to buy his TV set.  Approximately five minutes after Nunn arrived at the victim's home, several neighbors heard multiple gunshots.

Police began looking at Nunn as a suspect because of a surveillance video that a neighbor shared with investigators. The video showed a bronze Buick Rendezvous that was purchased with counterfeit money earlier in the week.  

When Crime Stoppers put out surveillance images, Nunn was quickly identified by witnesses. Deputies went to his girlfriend's house, where they found him and arrested him. Sheriff's deputies also found the vehicle that had been purchased with counterfeit money.  It had a fresh coat of black spray paint covering it.

When deputies gained a search warrant for Nunn's home, they found printing paper, counterfeit cash, ammunition, spray paint cans, and Cabrera's television, linking Nunn to the crimes.

He has been charged with multiple fraud charges and one count of first-degree murder.  He is being held without bond at this time.
Lake Worth Murder Laws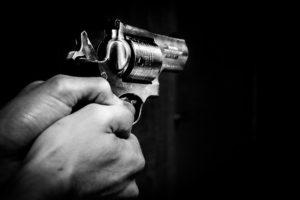 In Lake Worth and many other areas of Florida, people are charged with a variety of violent crimes every single day. When a crime involves intentional and aggressive harm to another party, you could be facing various charges that could leave a huge impact on your life. When the thought of a loss of rights and a permanent criminal record is bringing you down and making it difficult to move forward with your everyday life, it might be time to speak with an experienced criminal defense attorney about your case and where you can turn. Murder charges in Florida are some of the most serious crimes, leading to years in prison, fines, and a huge social impact on the rest of your life. If you have been accused of a crime of murder in Florida, you should always take these charges seriously and speak with an attorney immediately.

If you have been charged with the serious crime of murder, it's absolutely crucial to your well-being to hire the best possible lawyer you can find.  At Musca Law, our attorneys have more than 150 years of combined criminal defense law experience and have helped thousands of Floridians who have been accused of a serious crime and we can help you too.  Our criminal defense attorneys are willing to listen to your side of the story and will leave no stone unturned as we explore every legal avenue available to build a strong defense to the charges against you. Contact an attorney at Musca Law to find out all of your legal options at (888) 484-5057.