Lakeland, FL (May 25, 2019) - Two men were arrested in Lakeland after bringing BB guns to a backyard fight.  The arrests took place on Monday, May 20th according to the Polk County Sheriff's Office.
20-year-old Henry Alcantara and 19-year-old Victor Alcantara were arrested in connection with the incident.  Police reports indicate that the two suspects, as well as a 15-year-old named Giovonny Alcantara, were involved in a verbal dispute with a 36-year-old man.  In the course of the argument, Victor ran toward the man and began punching him.  At that point, Henry Alcantara is accused of coming into the man's yard, brandishing a BB gun, and threatening to kill him.  Henry then walked away, only to return a few minutes later with a different gun.
Deputies reviewed surveillance video from the scene as part of their investigation.  The guns were recovered at the suspects' residence. Henry and Victor Alcantara are facing charged for aggravated assault with a deadly weapon and misdemeanor trespassing.  
Lakeland Violent Crimes Laws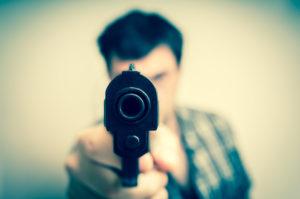 A Florida violent crime can have a major negative impact on your life.  A violent crime is often punished more harshly when the use of a weapon is involved in the crime.  In these cases, a charge can be elevated to an aggravated level and will carry longer potential prison sentences and higher fines.  Judges and prosecutors will also treat the crime more seriously if a weapon was used during the events in question.  
If you are facing a violent crime or weapons-related offense, our attorneys at Musca Law can help protect your legal rights and secure your future.  We understand that your freedom may be at stake and we will do everything to ensure that you have the best possible outcome in your case.  Our team does not back down from a challenge and we are here to assist you when your back is against the wall. 
Our Lakeland criminal defense lawyers are standing by to take your call now.   For your free consultation, please contact us at any time at (888) 484-5057.