Lakeland, FL (June 22, 2019) - A 32-year-old Lakeland woman was arrested this week when she went to the police and tried to turn in her husband's guns.
According to the Lakeland Police Department, 32-year-old Courtney Irby told officers that her estranged husband, Joseph Irby, had attempted to run her over with his car.  Following the incident, Mr. Irby was taken to jail.  As he was in jail, Courtney Irby went to his apartment on Village Center Drive and began searching for guns that she knew to be in his apartment.  After she located several firearms, she attempted to turn them into police.  
As she turned the guns in, however, a Lakeland police officer asked her if she had committed burglary by entering the apartment without permission.  Ms. Irby confirmed that she had never lived in the apartment and that she had entered for the sole purpose of confiscating the weapons.  Following her admission, she was arrested and charged with armed burglary of a dwelling and theft of a firearm.  
Records indicate that Courtney and Joseph Irby were in the process of a divorce and that she had an injunction against him at the time she entered the apartment.  
Lakeland Violent Crimes Laws
A charge of burglary is a felony offense under Florida law. Burglary involves breaking into or entering a building or residence with the intent to commit a crime while inside.  If the burglary involves the use of a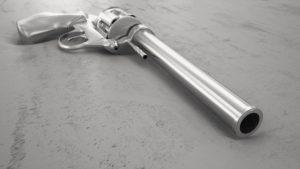 firearm, the crime can be elevated to a first-degree felony, a charge which can carry up to life in prison. 
When you are charged with a serious Florida violent crime, you should immediately seek out the services of a skilled and experienced Florida criminal defense lawyer.  At Musca Law, our team can help you plan your defense from day one.  We will advise you on how best to proceed with your case and will work hard to help you avoid many of the negative consequences that often result from a serious felony conviction. 
We are standing by to assist you 24 hours a day, 7 days a week.  Our Lakeland criminal defense lawyers will stand up for you when your back is seemingly against the wall.  For your free consultation, please give us a call at (888) 484-5057.