Melbourne, FL (March 16, 2019) - Police have arrested three men accused of an armed robbery at a Melbourne condominium complex.  Officers in Indian Harbour Beach announced the arrests of 18-year-old Kaleb Mcquain, 18-year-old Justin Brown and 19-year-old Chase Daniels on Sunday, March 10th.

Police were alerted when a resident of the English Park Condominiums said that the men approached him with stun gun and a pistol.  Following a confrontation, Brown is accused of taking the victim's phone before fleeing the scene in two vehicles.  Police were able to track the men to an apartment in the 1000 block of Park Drive where they were detained and later arrested.

All three were charged with robbery with a firearm while Mcquain also faces a charge of tampering with evidence.  Daniels was additionally charged with carrying a concealed weapon.  No additional details are available.
Melbourne Violent Crime Laws
Being accused of a violent crime in Melbourne is a very serious event.  The charge of robbery with a firearm is a first-degree felony and can carry a penalty of up to life in prison, depending on the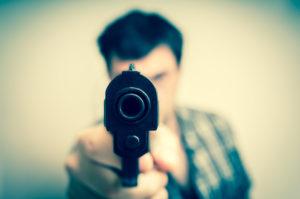 circumstances of the case and other factors.  This charge carries a minimum term of 48 months upon conviction.

When you are facing a Florida violent crimes charge, it is important to have experienced and strong counsel by your side.  Your life and your future are at stake and mounting a convincing defense is essential.  In cases involving violent crimes charges, all of the facts must be carefully examined to determine if you have a defense to the crime.  In some cases, you may have been in the wrong place at the wrong time and were charged with a crime you did not commit.  Authorities will commonly charge everyone present at the scene as accomplices even if they had no actual participation in the crime.

At Musca Law, our Florida criminal defense attorneys can help you if you have been charged with any type of crime in Melbourne and surrounding areas.  Our Melbourne criminal defense attorneys are here for you 24 hours a day, 7 days a week.  For a free consultation, please call us at (888) 484-5057.