Navarre, FL (March 13, 2019) – A sheriff's deputy with Santa Rosa was called to a hospital after an alleged battery that took place at 2129 Calle De Castelar.

While there, the victim spoke with police and told them that his friend, 22-year-old Cody Bijarro, intentionally struck and choked him against his will. At the time, the victim and Bijarro had been at a party when Bijarro started a verbal argument and grabbed him around the neck. The victim said that he struggled to breathe and lost consciousness.

Later on at the party, Bijarro allegedly started another physical altercation by taking the victim to the ground and rolling around before he was able to separate from the victim and walk a few yards away.

The victim alleged that Bijarro punched him a total of three times in the face and that a cracking sound could be heard after the final punch. The victim had a fractured nose and various other facial fractures that doctors claim would require surgery.

Bijarro has since been arrested on charges of felony battery by strangulation and aggravated battery. He has been issued a $15,000 bond.
Navarre Battery Laws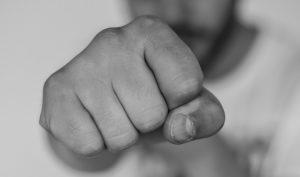 In Florida, battery is a violent crime that is handled very seriously under the law, especially when severe harm has been caused to another party by these violent acts. Many individuals tend to confuse battery with assault, not understanding that assault applies to cases of threats of violence and battery applies to cases of actual striking and beating. If you have been officially charged with one of these serious crimes, you could receive a wide variety of consequences that can hold you back in various aspects of your life. Luckily, there is hope on your side.

At Musca Law, our attorneys have experience in all aspects of the criminal justice system in Florida, from the initial interrogation process to your actual trial. Because many of these steps need preparation and a vast understanding of legal laws and standards, it is imperative to have a criminal defense attorney on your side to help explain these steps to you and help you through this difficult time. Let us help you gain the case results you deserve. Call us for more information at (888) 484-5057.