Ormond Beach, FL (January 23, 2018)- Ormond Beach Police Department says that they have one man in custody after he made threats to several passengers on the bus that he had a bomb in his possession and was going to blow the bus up.

The five bus passengers and the bus driver immediately exited the bus upon hearing that the man was threatening to set off a bomb inside the bus and contacted authorities.

There was a 2-hour standoff with the man on Wednesday morning before he lit up a smoke and pulled up his shirt to expose his torso indicating that he did not have a bomb strapped to his body and stepped out of the bus at 10:33 am.  During the intense standoff with police this morning, a local high school and several businesses were evacuated because of the dangerous circumstances surrounding the incident.

The Volusia County Sheriff's Office used a robot from their Bomb Squad Division to assist with removing 2 different bags that were believed to belong to the man making the threats.

The man was arrested after exiting the bus. He has not been identified at this time.
Weapon Crimes in Florida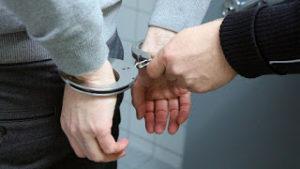 Making a false report involving the planting or placing of a deadly and dangerous explosive such as a bomb or other weapon of mass destruction is a second-degree felony charge in the state of Florida.  This type of crime is punishable and the accused could be looking at up to 15 years in a Florida State Prison.  If you have been accused and charged with the crime of making a false bomb threat in the state of Florida, you will need to speak to an experienced criminal defense attorney who will be able to ensure that your rights are protected throughout the complex and complicated criminal justice system.

At Musca Law, we have more than 150 years of combined criminal law experience and have successfully represented thousands of Florida residents who have been charged with a serious crime.  We represent both juveniles and adults who have been accused of these types of weapon crimes.  If you have been charged with making a bomb threat in the state of Florida, you need to contact the attorney's at Musca Law as soon as possible to schedule a free consultation with one of our lawyers to discuss the charges against you.  Call us today to talk about the charges against you and different ways to avoid the most severe penalties while we fight for a dismissal of the charges at (888) 484-5057. We will ensure that you receive the case results you deserve.