Palm Bay, FL (January 28, 2019) – In Brevard County, police say that a man was arrested for shoving a gun in a woman's mouth after she complained that he was talking too much during a TV program.

The man has been identified as 55-year-old Calvin Lindsey.  He was arrested on assault and battery charges at his home in Palm Bay.

The woman complained that Lindsey was talking during the TV show which is when Lindsey got up and went into the master bedroom, closing the bedroom door behind him. A short time later, the woman went into the master bedroom so that she could get a blanket, which is when she heard him taking down a shotgun from the gun rack.

The woman said that she told Lindsey that she thought he was trying to 'intimidate her' with the gun which is when he knocked her to the floor, fired the gunshot into the ceiling of the home and proceeded to force the barrel of a 9mm handgun into her mouth and said 'you want to see intimidation?'.  So hard that he broke one of her teeth off.

Somehow, she was able to summon the police for help.  When authorities arrived, the woman was covered in bruises all over her neck and back. Lindsey has since been arrested on assault with a deadly weapon and aggravated battery with a deadly weapon charge. Currently, he is being held at the local jail.
Palm Bay Battery with a Deadly Weapon Laws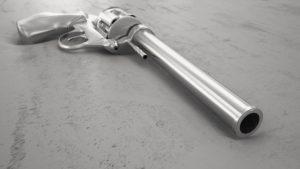 If you have been charged with a weapons crime because of a violent act that allegedly occurred between you and another party, you might be frightened about the outcome of your case and your future. Weapon charges in Florida are not dealt with lightly, especially in cases where the evidence points to actual harm to another person or threats of death. This is why it is important to have experienced help on your side when you are dealing with a battery charge against somebody close to you and need dedicated help on your side.

It is not unheard of for serious consequences and penalties to follow battery charges, especially when they involve particular violence against another person. This means that you could be staring in the face of serious penalties such as time in prison, large fines, community service, and even batterer's programs that are mandatory and will take time away from you. You might worry about the social impact that these charges can carry with them. It is important to know your rights and speak with our attorneys at Musca Law. We will help you work toward the case results you deserve in your time of need. Contact us for more information at (888) 484-5057.