Panama City, FL (July 13, 2019) - A man faces charges in Panama City after police say that he fired a shot while leaving a local bar earlier this week.  The incident occurred on Tuesday, July 9th at the Coyote Ugly Saloon.
Police say that Steven Summers had been at the bar throughout the evening and was intoxicated when he left.  As he exited the business, Summers went to his vehicle and retrieved a gun before firing a single shot into the air.  Security guards converged on Summers after the shot and held him until police could arrive. 
When officers got to the scene they located Summers and arrested him in connection with the incident.  He was charged with discharging a firearm and taken into custody.  There is no word on whether he remains in jail at this time. 
Panama City Weapons Laws
A Florida weapons crime will not be taken lightly by prosecutors.  Due to the deadly nature of firearms, any illegal activity involving guns or other dangerous weapons can result in harsh penalties, including jail time, probation and the loss of your right to lawfully carry the firearm.  Depending on the particular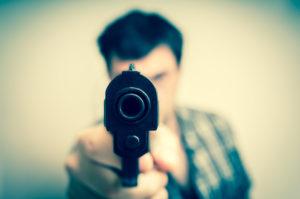 circumstances of your case, the crime may either be a misdemeanor or a felony.  
If you are facing any type of weapons charge, you need an experienced attorney by your side to help you navigate through our criminal justice system.  At Musca Law, our Florida criminal defense lawyers have a thorough understanding of Florida weapons laws.  We bring the experience needed to seek and obtain a favorable resolution.  Our goal is to ensure that a single mistake does not affect you for the rest of your life.  
Our team of Panama City criminal defense lawyers can help if you have been charged with any type of crime.  We offer free consultations to all potential clients and are standing by now to assist you.  To arrange for your free consultation, please give us a call any time at 888-484-5057.