Panama City, FL (December 6, 2018) – A Bay County man has been arrested for a domestic battery incident where he repeatedly choked his pregnant girlfriend after pouring lighter fluid on her.

19-year-old Deandre Lamar Guyton is now facing several charges after the incident inside the Royal Arms Garde Apartments on Balboa Avenue. Guyton deprived the victim of a cell phone so that she was unable to call for help.

Guyton was staying with the victim since Hurricane Michael. He allegedly became angry with the victim while they were arguing, which is when he doused her with a flammable accelerant. He then threatened to ignite her and set her on fire if she didn't do what he wanted. He also tossed her around her bedroom.

The victim recalled Guyton wrapping his hands around her neck and squeezing so tight that she was falling in and out of consciousness. Officers said that the victim had visible swelling in and around her neck and tongue areas.  She also had burst blood vessels in her eyes that were visible to the responding officers.

When the unidentified woman regained consciousness, Guyton forced her to wash her body in the shower to remove the flammable liquid, at which time, he made her have non-consensual sexual relations with him.  He kept her cellphone from her so that she was unable to call for assistance from law enforcement.  

Guyton has a previous conviction for a battery on the same woman and served time in jail for that attack.  Guyton is currently facing multiple counts of domestic battery by the use of strangulation, sexual battery, aggravated assault, and a variety of other charges.
Panama City Domestic Battery Laws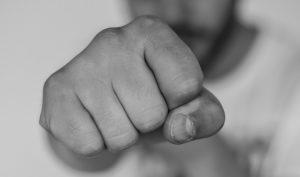 The charge of domestic violence can inhabit any type of crime that ranges from assault, battery, stalking, kidnapping, and more. Those who are accused of domestic violence could receive anything from a misdemeanor or a felony depending on the violent circumstances in the case. The prosecutor in your case will look at interactions between you and your accuser, medical records, photographs, statements from witnesses, and more. Being accused of domestic battery charges in Panama City might be one of the most difficult things you will ever face, but you are not alone.

We understand that it can be scary to face criminal charges of any kind, especially those that are known for being particularly violent. Our Panama City criminal defense attorneys at Musca Law are here to give you individual attention in your case and provide you with the legal assistance you need to move forward. If you have been accused of a domestic battery crime, you have options when it comes to your case. Contact us today to speak with an experienced attorney at (888) 484-5057.