Pensacola, FL (February 13, 2019) – Police reported that a former corrections officer, identified as 31-year-old John Rogers Jackson, battered his 22-week pregnant girlfriend. The incident allegedly took place at a Pensacola Circle K on East Cervantes Street.

The incident took place on Saturday when the two became involved in an argument that turned violent. Jackson pushed his girlfriend to the ground in the parking lot, grabbed her cellphone when she tried to call 911, and then pushed her down another time. The girlfriend was able to get to her feet and tell a clerk in the Circle K to call the police.

Jackson reportedly came up behind his girlfriend, put his arm around her neck, pushed her to the ground, and took her phone from her once more. Jackson then left her behind at the Circle K and headed eastbound with her phone.

When the woman spoke with police, she stated that the argument started when she asked Jackson to return her vehicle, which he had been borrowing, so she could use it to go to work.

Jackson has since been transported to the Escambia County Jail and is charged with aggravated battery and obstruction of justice.
Pensacola Aggravated Battery Laws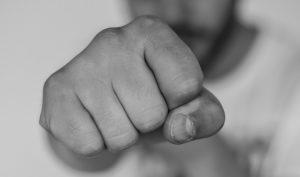 If you have been charged with aggravated battery in Florida against a loved one, you might find yourself facing severe legal penalties depending on the circumstances of your case. Unfortunately, every year, many people are wrongfully accused of battery, which can put them in a difficult position and cause them to deal with unexpected consequences. You could face time behind bars, large fines, and a social impact that will follow you through life and even make it difficult to find employment. You should always speak with an experienced criminal attorney who will ensure that your rights are being protected throughout the legal process.

From the moment you are accused of one of these serious and violent crimes, you need a legal representative by your side who has experience with these cases and can make you aware of your many rights under Florida law. At Musca Law, we have handled a wide variety of cases like yours and helped many clients of the past receive proven case results in their time of need. With years of experience in battery cases, we would like to use a team approach to help you through the most difficult aspects of your case. Contact us to find out how we can help you in your time of need at (888) 484-5057.