Port Charlotte, FL (June 9, 2019) - A suspect in a 2014 robbery in Port Charlotte has been arrested nearly five years after the alleged crime took place.  44-year-old Terry Lenoris Smith was arrested this week in connection with a robbery at a Sunoco Gas Station on Tamiami Trail that took place on November 29, 2014.
The victim of the incident worked for Blue Rhino Gas and was making a delivery to the station when he spotted a suspicious person walking towards him as he got into his truck.  The suspect produced a handgun, pointed it at the victim and demanded cash.  The victim gave the suspect his wallet but also grabbed the firearm with both hands, resulting in a struggle in which he was bitten on the hand and punched. 
The suspect did fire the gun one time during the struggle but it did not strike anyone.  The suspect then ran away and into a nearby car before fleeing on Ellicott Circle.  Crime scene technicians processed the scene and collected fingerprints, DNA and a sweater that was left behind at the scene.   Police later issued a warrant for Smith's arrest in 2015 but he left Charlotte County and was only located after being arrested recently in nearby Marion County.  
Smith is currently in the Charlotte County Jail under a $450,000 bond. 
Port Charlotte Violent Crimes Laws
Under Florida law, robbery is a serious violent crime that is classified as a second-degree felony.  This means that the crime is punishable by up to 15 years in prison, 15 years in prison and a fine of up to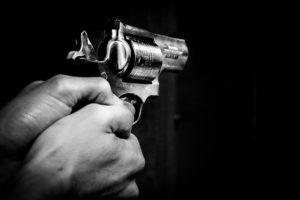 $10,000.  In addition to these penalties, robbery is a felony which, upon conviction, can carry serious collateral consequences such as difficulty finding a job and loss of important civil rights such as the right to own a firearm and the right to vote in elections.  
At Musca Law, our team of Florida criminal defense lawyers can help if you are facing a violent crimes charge in our state.  We know the severity of these crimes and understand that your future is on the line.  We will work tirelessly to present your best defense and ensure that your rights are fully protected.
Our Port Charlotte criminal defense attorneys are standing by to help you now.  For your free consultation, please give us a call at 1-800 FL-Legal.