Sarasota, FL (March 10, 2019) - The Sarasota Police Department has arrested a man in connection with a fake 911 call and shooting that took place in January of this year. On Thursday, March 7th, officers announced the arrest of 32-year-old Tyran Young.

On January 7th, dispatchers received a 911 call from a man who asked them to respond to a home on Goodrich Avenue. The man said he had fallen and needed assistance. When paramedics arrived at the home, the resident said that they had not called for help. As the paramedics returned to their ambulance, shots were fired at them from an unknown location. The paramedics were able to leave the scene without being struck by gunfire. The shooting left bullet holes in the driver-side door.

Using phone records, police were able to track the calls and determined they were made by Young. Young was already in jail on an unrelated charge when he was arrested for this event. He now faces charged of aggravated assault on an emergency worker, shooting into a vehicle, misuse of 911, and possession of a firearm by a convicted felon.
Sarasota Violent Crime Laws
In Florida, violent crimes can carry very harsh penalties. When a deadly weapon is used in the commission of a violent crime, the penalties can be enhanced even further. Those facing a charge of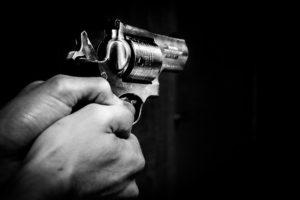 aggravated battery or aggravated assault with a deadly weapon are looking at a serious felony that can affect their lives for decades into the future.

When you have been charged with a violent crime, we understand that you may be nervous or feel uncertain about your future. In some violent crimes cases, you may have a defense to the charge if you were defending yourself or another person from the threat of serious bodily injury. In these cases, you could be completely exonerated. In other cases, you may be eligible to obtain a reduction of the charges through pre-trial negotiations.

At Musca Law, our Sarasota criminal defense attorneys will stand up for you when your back is seemingly against the wall. We will fight to balance the scales and help you through a very difficult situation. For a free consultation, please call us any time at (888) 484-5057.