Sarasota, FL (June 22, 2019) - Police in Sarasota arrested a man suspected of being under the influence and discharging a firearm.  The incident occurred on McIntosh Road in the Sarasota Springs neighborhood.
Officers were called to the residence of Eli Martinez on Tuesday, June 18th in response to reports of gunshots in the area.  Residents reported hearing four separate shots.  When police arrived at Martinez's home, he emerged with an AK style rifle.  Officers observed that he was heavily intoxicated and called for additional officers to respond to the house.  
Eventually, Martinez was taken into custody by deputies.  He was charged with several crimes, including resisting arrest and discharging a gun while intoxicated.  He was taken to jail but there is no word on whether he remains incarcerated at this time.  No additional details have been released. 
Sarasota Firearms Laws
A Florida weapons violations charge must be treated very carefully.  Each year, thousands of Floridians are charged with crimes relating to the misuse of firearms.  It is illegal to discharge a firearm while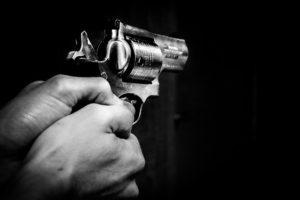 intoxicated.  This crime requires the prosecutor to prove that you used and discharged the firearm and also that you were intoxicated with the discharge took place.  If convicted, this charge is a second-degree misdemeanor.  Many other types of firearm charges are classified as felonies and carry even harsher sentences.  Both judges and prosecutors are likely to treat these cases seriously and may not have much leniency for your situation. 
If you have been charged with a firearms offense, it is important to hire a skilled and trusted Florida criminal defense attorney.  A weapons crime conviction may result in jail time, probation, fines and can cause you to lose your right to carry a concealed weapon in our state.  At Musca Law, our team knows and understands the many serious consequences you can face as a result of a conviction.  
We will stand in your corner and fight when you are facing any type of criminal charge.  Our team of Sarasota criminal defense attorneys is here for you 24 hours a day, 7 days a week.  For your free consultation, please contact us at (888) 484-5057.