Sarasota, FL (February 10, 2019) - A 16-year-old has been arrested by officers in Sarasota in connection with an attack on an off-duty police officer.  The teen was arrested on Friday, February 9th.

The incident leading up to the arrest began when the officer was jogging at Payne Park on Adams Lane on Thursday, February 8th.  The officer overheard a group of five teenagers taunting a homeless man.  The taunting turned into a physical altercation when the man was pushed in the chest and fell to the ground.

The officer attempted to intervene to stop the assault.  As he approached the teens, they began calling him a "fat police officer cop."  One of the teens punched the officer in the back of the head.  He was also punched in the face several times before the teens left.

A witness to the fight was able to assist police in identifying the 16-year-old attacker who was arrested.  The teen was charged with battery on a law enforcement officer.

The officer is expected to be ok after suffering minor injuries.
Sarasota Battery Laws
Battery of a law enforcement officer involves any unlawful touching of an officer.  In Florida, this violent crime is a third-degree felony.  A conviction for battery of a law enforcement officer can bring up to five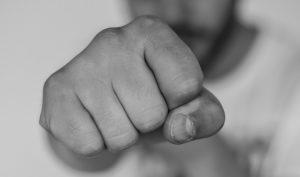 years in prison, five years of probation and a fine of up to $5,000.  In order to be charged with this offense, the defendant must know that the person is a law enforcement officer and the officer must be engaged in performance of their duties.

In the context of law enforcement officers, battery charges are taken very seriously.  Judges and prosecutors will have little tolerance for those who harm or attempt to harm a law enforcement officer.  Even first-time offenders could face serious penalties if convicted of this crime.

When you are facing a battery charge, regardless of the victim, you need a good Florida criminal defense attorney by your side.  We stand up for our client's legal rights when the weight of the justice system and public opinion is against them.  We will fight for you from the very first day we take your case until its conclusion.

At Musca Law, our attorneys have over 150 years of combined experience and proven case results to back it up.  For your free consultation in Sarasota or surrounding areas, please contact us today at (888) 484-5057.