Southwest Ranches, FL (February 10, 2019) -  A man has been charged with attempted murder and aggravated assault after he fired shots at a group of men trying to repossess his car in Southwest Ranches.  The incident happened on Thursday, February 7th.

Around 1:00 am, two men came to the home of Juan Barquero in the 6100 block of Southwest 190th Avenue for the purpose of repossession Barquero's Mercedes.  When they arrived, Barquero came outside and threatened the men with a .9mm handgun.  The men showed them their credentials but Barquero continued to threaten them.

That is when the men jumped into the truck and drove away.  As they were leaving, Barquero fired seven rounds at the men.  Six of the rounds went through the back window of the truck.  Miraculously, neither of the men were struck by the bullets.  The men called 911 and police went to Barquero's house.

After an investigation, he was arrested and charged with attempted murder, aggravated assault and shooting into a vehicle.
Southwest Ranches Violent Crime Laws
A Florida violent crime charge can land you in serious trouble.  The charge of attempted murder can either be first-degree attempted murder or second-degree attempted murder.  A charge of first-degree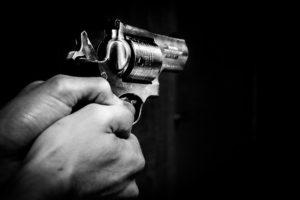 attempted murder involves an attempted planned or pre-meditated killing.  A second-degree attempted murder charge lacks the element of pre-meditation.  Depending on the type of attempted murder charge, this crime could carry up to life in prison if convicted.

In addition to attempted murder, there are other violent crime charges that carry harsh sentences, including aggravated assault, aggravated battery and domestic assault and battery.  When you are facing a violent crimes charge, you need aggressive and experienced counsel by your side to protect your legal rights.  There may be defenses, such as self-defense, that apply to your case which could be used to your advantage.

At Musca Law, our Florida criminal defense attorneys will explore all areas of potential defense when you are charged with a serious crime.  For a free consultation, please call us today at (888) 484-5057.