St. Petersburg, FL (May 4, 2019) - A St. Petersburg man was charged with a felony following a crash that landed a Pinellas County deputy in the hospital.  The events took place on 62nd Avenue N on Wednesday, May 1st.
According to investigators, Deputy Joshua Short was driving a marked 2013 Chevy Tahoe on 62nd when he stopped for traffic traveling the opposite direction on 53rd Street N.  As he was stopped, his vehicle was approached from behind by a 2004 BMC 645Cl driven by 30-year-old Ronald Reed, Jr.  Reed failed to slow his vehicle in time to avoid a collision and slammed into the back of the Tahoe.
Following the impact, Reed's vehicle skidded across the roadway and into a ditch.  Reed and Short, along with a passenger in Reed's vehicle were taken to a hospital for non-life-threatening injuries.  Reed was charged by police with one count of Felony Driving While License Revoked.
Officials say that speed played a role in the crash.  
St. Petersburg Traffic Laws
A traffic charge can have a tremendous impact on your life.  Many people are at least casually familiar with traffic laws, as almost everyone has received a minor traffic infraction at some point in their lives. A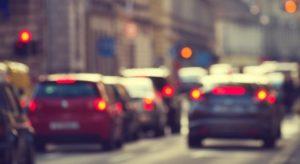 charged of driving while license revoked, however, is more serious and can bring long-lasting consequences such as an indefinite license suspension, the inability to obtain insurance and potentially a jail sentence in the most serious cases.
If you are facing a traffic charge you should always engage the assistance of an experienced Florida traffic offense attorney to help you through the process.  Even a small mistake in the handling of your case can result in serious consequences.  Each day, people across our state attempt to handle their own traffic charges and are surprised when they find out that an unintended negative outcome occurred as a result.
At Musca Law, our team is here to assist you when you are facing any type of traffic offense.  Our St. Petersburg criminal defense lawyers are standing by now.  For your free consultation, please give us a call at (888) 484-5057.