Vero Beach, FL (May 16, 2019) – Police have arrested a 28-year-old medical technician after she was accused of stealing personal items from victims at a living facility where she worked.
The Indian River County Sheriff's Office stated that six burglaries took place in the living facility known as the Isles of Vero at 1700 Waterford Drive in Vero Beach. Various victims came forward and claimed that their cash, credit cards, jewelry, and other expensive items were stolen from them even though their apartments were locked.
A detective was able to locate some of the jewelry at local pawn shops in the area. He then discovered that the suspect was Chelsea Langford, a medical technician who was employed at the Isles of Vero. Langford came forward and confessed that she had stolen and pawned the items. She has since been arrested on charges of two counts of dealing in stolen property and other related charges.
Police say that Langford is also a person of interest in other burglaries that happened in that same assisted living facility.
Vero Beach Stolen Property Laws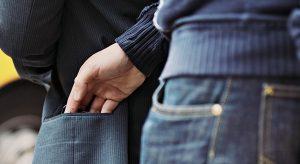 Any time that a suspect is accused of dealing in stolen property or any related crime, they could face theft-related charges that could follow them throughout every aspect of their lives. These crimes are taken very seriously under Florida law due to the fact that theft and other related crimes are growing in Florida, causing serious impacts on many victim's lives. If you are now facing serious penalties because you have been accused of one of the various types of theft crimes in Florida, you have protections under the law as you work to build a defense in your case.
At Musca Law, our criminal defense attorneys have been successful in the past when defending suspects who have been accused of these serious crimes, especially when the evidence is seemingly stacked against you. You might be feeling concerned about the outcome of your case and the impact it could have on your future, with prison and fines that can set you back in many ways. If you are looking forward to receiving proven case results and being able to move forward, please contact us as soon as possible at (888) 484-5057.