Volusia County, FL (January 12, 2019) - The Volusia County Sheriff's Office announced on Friday that it had arrested a man wanted in connection with three incidents of talking in Seminole and Volusia counties.

62-year-old Walter Hernandez of Sanford was arrested by deputies following a traffic stop.  Hernandez was suspected in the three separate incidents that took place on Monday, January 7th.  The first event took place on East Fourth Street in Sanford where Hernandez was accused of making unwanted sexual comments toward a woman.  The second incident took place in Orange City later that day.  A third incident happened in in DeBary when Hernandez allegedly followed a woman and asked her to perform a sexual act.

Hernandez has similar previous convictions according to the Florida Department of Corrections.  In 2008, he was convicted of following a victim and attempting to grab her.  Last year, Hernandez followed a minor and was investigated by police who found ropes and unused condoms inside his van.

Anyone with any additional information regarding the case is asked to contact the Sanford Police Department or the Volusia County Sheriff's Office.
Volusia County Stalking Laws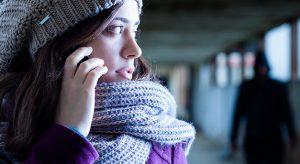 In Volusia County and throughout Florida, stalking is a serious criminal offense.  The act of stalking is defined as harassing, following or continually contacting another person.  Stalking can be either in person or electronically.  Electronic stalking is known as cyberstalking.  A person charged with stalking faces a first-degree misdemeanor, punishable by up to 12 months in jail and a fine of up to $1,000.  If the stalking comes with a threat of serious bodily injury, the crime is elevated to a felony and the potential of up to 5 years in prison.

If you are facing a stalking charge, it is best to have an experienced Florida criminal defense attorney on your side as soon as possible.  At Musca Law, our attorneys have over 150 years of combined experience defending those accused of stalking and other sex crimes throughout our state.  The consequences of a stalking conviction on your permanent criminal record can be felt for years and may limit your future opportunities.

We are standing by 24/7 to take your call.  For a free consultation with one of our attorneys, please contact us at (888) 484-5057.