West Palm Beach, FL (June 29, 2019) - The West Palm Beach Police Department announced the arrest of a suspect in connection with a double homicide that took place in April.
On April 27, police were called to the Lake Mangonia Apartments on North Australian Avenue in reference to an alert from the city's gunfire detection system. When officials arrived, they found two men, 26-year-old Bernard Jones, and 41-year-old Alan Bernard Newman, in the parking lot suffering from life-threatening injuries.  Both men later died from their injuries. A third man, Rashad Brown, was taken to a local hospital and received surgery for serious injuries that were also sustained in the shooting.
Police reported seeing a black Jetta speeding away from the scene and going towards 45th Street. Three suspects eventually exited the vehicle and fled on foot.  While the foot chase ensued, officials located several discarded items, including a cell phone and a driver's license.  The license assisted them in identifying 30-year-old Elfonno Albury as one of the suspects.
A search warrant for the black Jetta later revealed firearms, an orange ski mask, and cardboard packaging. Albury was arrested this week on two charges of first-degree murder, as well as the attempted murder of Rashad Brown.
He was expected to appear before a judge on Thursday to set bail.  No further information has been released at this time.
West Palm Beach Homicide Laws
Facing a Florida homicide charge is a truly life-altering event.  In Florida, there are three degrees of murder.  First-degree murder is an intentional and premeditated killing. The penalties for first-degree murder are either life in prison or the death penalty in the most severe cases.  Second-degree murder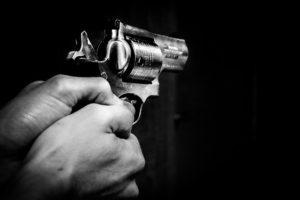 involves an intentional or reckless murder without the element of pre-meditation.  The sentence for second-degree is still quite serious and can be up to life in prison, depending on the nature of the case. Third-degree murder is considered a second-degree felony and can bring a prison sentence of up to 15 years.
When you are facing such a serious charge, you need the services of a skilled and dedicated Florida criminal defense attorney.  At Musca Law, our team has over 150 years of combined experience in dealing with all types of criminal charges, including homicide.  We know how to handle the most complex and complicated matters and we are prepared to stand in your corner when the weight of the criminal justice system is seemingly against you.
Our West Palm Beach criminal defense lawyers are waiting now to assist you.  For your free consultation, give us a call any time at (888) 484-5057.