West Palm Beach, FL (June 2, 2019) - A man has been arrested in connection with a strong-arm robbery that initially took place in April of 2019. The Palm Beach County Sheriff's Office arrested 24-year-old Dominique Felder on the charge this week.
Deputies report that 24-year-old Bruno Costa was near Benoist Farms Road on April 28th when he was approached by a black male suspect as part of an alleged transaction on the online app OfferUp.  The two had arranged to meet in order to exchange a Sony PlayStation Vita console as well as a cellphone prior to April 28th.  Both exchanges went well and, on April 28th, Costa agreed to meet Felder for the purchase of a cell phone.
When Costa and Felder met around 7:00 pm, Felder is accused of grabbing Costa, putting him in a headlock, and taking his wallet.  Costa told police that he felt what he believed was a gun on Felder's waist or hip area.  Costa then gave Felder $450 in cash and Felder fled the scene.  
The incident was captured on a camera inside Costa's vehicle.  Following an investigation that lasted over a month, Felder was officially arrested and charged with robbery.
West Palm Beach Violent Crimes Laws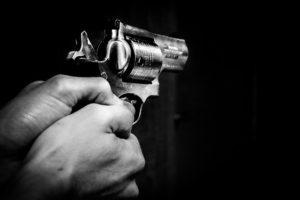 A Florida violent crime such as robbery must be taken very seriously.  Violent crimes can carry severe penalties such as extended prison sentences, long terms of probation and also can cause you to become a convicted felon.  All of these occurrences can result in severe disruption to your life and can affect all areas, including your ability to obtain and maintain gainful employment as you struggle with a very serious conviction on your criminal record.
If you are facing a violent crimes charge, you should obviously not take the situation lightly as you need the best possible to defense to help you escape a difficult situation.  Our Florida criminal defense attorneys at Musca Law will take a close look at your case and advise you how to best handle the situation.  We will fight for your legal rights both in and out of court as we help you obtain the most successful resolution to your charges.  
Our team does not back down from a challenge and we are standing by to assist you now.  For your free consultation with a West Palm Beach criminal defense lawyer, please give us a call 24/7 at (888) 484-5057.