West Palm Beach, FL (March 27, 2019) – Police arrested 40-year-old Mikkel Dankner in Palm Beach County after he allegedly attacked his mother after she refused to dress his mannequin.

Dankner's mother was identified as 73-year-old who was bleeding from the face when a neighbor discovered her after the attack. The attack happened on Monday night and police were called to the scene for a domestic disturbance.

The victim spoke to deputies and told them that she and her son were in their backyard when Dankner asked her to dress his mannequin but she refused.

Dankner then stood in the screened doorway and stopped his mother from going back inside the home. The victim pushed the mannequin on the ground and ran inside the house, which is when a fight ensued.

The suspect took a small stool and struck his mom's head several times when she was on the floor. He also took food that she made for supper and shoved them into his mother's mouth.

The victim told deputies that she had a hard time breathing during the attack. She was able to escape the home and scream for help from neighbors.

The woman was taken to the hospital to be treated for wounds. Meanwhile, her son was arrested on charges of aggravated battery and domestic battery by strangulation. She said that her son suffers from bipolar disorder and tends to have violent outbursts.
West Palm Beach Domestic Battery Laws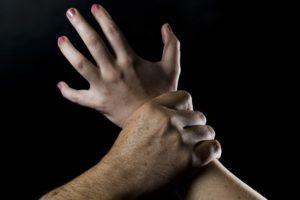 Facing any type of violent crime charges in Florida can be a frightening experience, especially when you are unsure of how you will move forward now that you have these serious charges following you everywhere. Violent crimes in Florida tend to be charged as hefty misdemeanors and felonies depending on the circumstances of the crime. Prosecutors and judges tend to take domestic violence crimes seriously due to the fact that they are a violent crime that takes place against a family member. If you have been arrested for one of these crimes, it is imperative to speak with a criminal defense attorney as soon as possible.

Many individuals who are charged with domestic violence crimes every year find themselves in a difficult position, as the version of facts sometimes becomes skewed and opens up doors and room for fault. If you believe that you have been wrongfully accused of domestic violence and you are feeling lost during this time, we want you to know that there is hope. At Musca Law, our attorneys have represented many clients facing these harsh crimes and are here to help you as you move forward and protect your rights. Please contact us at (888) 484-5057 to find out what we can do to help.