How to Beat A DUI in Florida
Download your copy now!
How to beat a DUI charge in Florida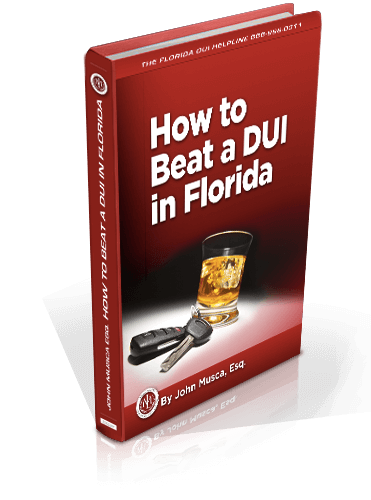 You've just been charged with a DUI in Florida. Now what? You have a very limited window of time to take action – 10 days to be exact. Failure to request a formal administrative review hearing within 10 days of an arrest for DUI will result in automatic driver's license suspension. The time to act is now.
Before you do anything else, you must find the right DUI defense lawyer to represent your case. When you contact Musca Law, you'll be working with a team of attorneys whose legal recognitions include selection in The National Trial Lawyers Top 100 Trial Lawyers, selection to Newsweek's Top Criminal & DUI Defense Lawyers (2013), and more.
At Musca Law, we fight to win every time. Download our free e-book to learn more.
Find out why pleading guilty is your WORST option
Reveal how DUI charges can be reduced or dropped
Gain the insight of an experienced DUI attorney
Discover the best strategies for beating a DUI
Common DUI FAQs
What is the legal blood alcohol limit in Florida?
The legal limit is the same nationwide: 0.08%. If your blood alcohol level is above 0.15%, you will face higher penalties.
If an officer asks me to take a Breathalyzer test, am I required to take it?
No, you're not legally required to take a Breathalyzer test… however, if you were pulled over under reasonable probable cause, then refusing to take it will result in a mandatory suspension of your license, make you ineligible for the Florida diversion program for first-time DUI offenders, and other possible complications.
What are the common penalties for DUI in Florida?
For your first offense, you may receive penalties including losing your license for up to 6 months, jail time for up to 6 months, fines up to $1,000 and up to 50 hours of community service. The penalties increase accordingly for repeat offenses.
Is a DUI a misdemeanor or a felony in Florida?
The first two Florida DUIs are misdemeanors; if you are caught drunk driving a third time, you will be charged with a felony.
How will I get to work if my Florida driver's license is suspended?
You may apply for a hardship license that allows you to drive to, from, and for work. In order to apply for a hardship license, contact the Florida Administrative Reviews Office for your county and follow their instructions. You'll likely be asked to pay a fee, take a test, and submit proof of enrollment in a driver improvement or alcohol awareness course.
Can I have my Florida DUI removed from my record?
Having a charge removed from your record is called expungement. Florida does not expunge DUI convictions. This means that it is very important to hire an attorney who will fight to have the charges dropped before they become part of your record in the first place.
How can I learn more about the DUI process in Florida?
It's common to have many questions when you're arrested for a DUI. Our free DUI e-book will walk you through these questions and more while clarify your options, including having the charges dropped or reduced.