Bay County, FL (March 16, 2019) - A man is charged with armed robbery after he attempted to rob a laundromat on Wednesday, March 13th.  The incident happened in Springfield.

Officers say that 33-year-old Justin Pompey walked into the Emerald Coast Coin Laundry on 11th Street. Pompey allegedly confronted the cashier and told her to leave because he was about to rob the business.  The cashier left the scene and contacted police.  When officers arrived on scene, they located Pompey and arrested him following a struggle.

Pompey was taken into custody and charged with attempted robbery and resisting an officer without violence.  No additional details were made available and it is unclear at this time whether Pompey remains in custody.
Bay County Robbery Laws
A charge of robbery in Bay County and throughout Florida can cause a major disruption to your life.  Robbery charges vary in severity depending on the circumstances of your case, including whether a deadly weapon was used in the commission of the crime and whether certain mitigating or aggravating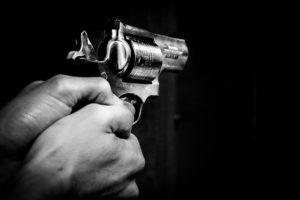 factors apply to the case itself.  All robbery charges, however, are classified as felonies and all carry serious implications, including impacts on your ability to obtain employment and a loss of important personal rights that come along with being a convicted felon.

If you are facing a Florida violent crimes charge, the attorneys at Musca Law are here to help.  We bring over 150 years of combined experience to your case and we will ensure that you have the best representation possible.  Our main goal is to help secure your future while assisting you with every step of the process.  We will protect your legal rights when the weight of the criminal justice system seems to be against you.

Our local attorneys have experience in Panama City and throughout Bay County.  If you are facing a charge in these areas, please contact our Panama City criminal defense attorneys at (888) 484-5057 for help today.  Our phones are answered 24/7 and we are standing by waiting to hear from you.