Brandon, FL (December 29, 2018) - The Hillsborough County Sheriff's Office has charged a man with several offenses after he was accused of impersonating a police officer.

Jesus Ledesma was arrested in connection with the incidents on Friday, December 29th.  According to police, Ledesma was traveling in a silver SUV on December 22.  Inside Ledesma's SUV was a blue flashing light.  Ledesma allegedly used the blue light to pull a vehicle at 604 Lithia Pinecrest Road.

As the vehicle pulled over, two men, including Ledesma approached the vehicle on both sides.  The men requested the driver's license and registration to which the driver complied.  One of the men then brandished a revolver and pointed it at the driver while the other took the driver's wallet and credit cards.

Later in the week, on Thursday, December 27th, a second vehicle was stopped by Ledesma and his accomplice using the same blue light.  A total of $515 was stolen from the driver's wallet on this occasion.

Ledesma has been charged with fraudulent use of a credit card, unlawful use of a blue light, robbery with a firearm, possession of a controlled substance and driving with a revoked or suspended license.  Police continue to search for the second suspect.
Hillsborough County Violent Crime Laws
If you are facing a violent crime charge in Hillsborough County, you may wonder what your future holds.  It is normal during these times to be anxious and afraid that this charge could follow you around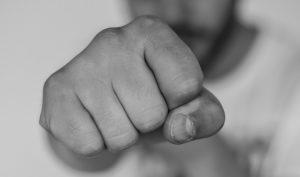 for the rest of your life.  Many violent crimes, such as robbery and aggravated assault, are felonies and carry long prison terms, along with high fines and the restrictions on your liberty that come with being a convicted felon.

Fortunately our Florida violent crimes attorneys at Musca Law stand ready to defense those charged with robbery, assault, aggravated assault, battery and other violent crimes in Tampa, St. Petersburg and all areas throughout Hillsborough County.  We also have offices throughout the state and can assist you wherever you are located.  Our experience in these types of cases will ensure that you have a hard-working attorney who will obtain the best possible outcome under the specific circumstances of your case.

We offer free consultations are our phones are answered 24 hours a day, 7 days a week. To speak with one of our Florida criminal defense attorneys, please call us at (888) 484-5057.