Clearwater, FL (July 20, 2019) - A man from Pinellas Park was arrested by Clearwater police this week following an incident in which he destroyed a hotel room after pretending to be on a business trip. 
According to reports, 22-year-old Chance Fridriksson arrived at the SureStay Plus Hotel on US-19 on June 10th.  Fridriksson told staff that he was the director of clinical services for the Suncoast Center and National Alliance on Mental Illness.  Fridriksson further stated that he had five co-workers coming with him and that he needed a negotiated rate on his rooms.  Upon booking the rooms, Fridriksson and the five other men stayed at the hotel from June 19th through the 24th.  
Police say that Fridriksson and his group trashed the rooms and left the hotel without paying their balance in the amount of $2,716.50.   Police next spotted Fridriksson as he got into an Uber in Pinellas Park on Wednesday, July 17th.  He was arrested and taken into custody. At the time of his arrest, police also located a syringe in his pocket and methamphetamine in his possession.
He has officially been charged with grand theft, scheme to defraud and possession of a controlled substance, along with possession of drug paraphernalia.
Clearwater Theft Crimes Laws
A theft charge in Florida can land you in serious trouble.  Grand theft is a felony under Florida law and the punishment for this crime depends on the amount of property or value of services that were allegedly stolen.  Scheming to defraud is a similar crime that involves an organized intent to defraud or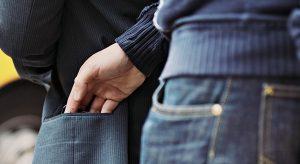 cheat another person or business out of money or services.  This crime is also a felony and the penalties increase depending on the amount in question.  
If you are facing any type of theft crime, you must seek the guidance of an experienced Florida criminal defense lawyer as soon as possible.  Theft crimes can have a major impact on your future.  Not only are you looking at potential jail time, being convicted of a crime involving theft can significantly limit your future employment prospects.  If you are convicted of a felony theft offense, you may also face other consequences that come along with being a convicted felon.
At Musca Law, we fight for individuals who have been charged with any type of crime throughout our state.  Our team of Clearwater criminal defense lawyers can help with any situation that you are facing.  For your free consultation, please call us at 888-484-5057.