East Naples, FL (February 11, 2019) – Police have made three arrests after an overnight home invasion that took place in East Naples. The incident took place at approximately 1:00 in the morning on Monday.

The Collier County Sheriff's Office says that the victim heard his sliding glass door shatter early in the morning in his home located on the 2800 block of Van Buren Avenue. The victim then saw his ex-girlfriend enter the room, accompanied by several armed men who wore bandanas around to cover their faces. The intruders held the victim at gunpoint and stole two of his gold necklaces before they fled the home in a white Toyota Camry.

Deputies found the Camry parked alongside Airport Road. When deputies approached the vehicle, four passengers exited the vehicle and fled to an industrial area to hide from police. The driver, identified as 18-year-old Kameron Williams, sped away in the car but was stopped a short time later and arrested. The 18-year-old ex-girlfriend, Mayira Okheda-Garsia, was located hiding underneath a trailer. A third suspect texted Okheda-Garsia, letting her know that he was safe at his home.  Authorities went to the home of 19-year-old Devante Sparks and placed him under arrest for his involvement.

All three suspects have been arrested and charged with home invasion robbery with a firearm and grand theft. Deputies are still looking for additional suspects involved in the crime.
East Naples Grand Theft Laws
Grand theft charges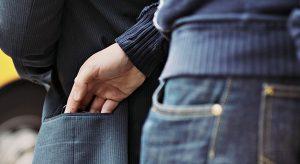 are typically a felony in Florida, which means that you could spend time in prison and receive hefty fines if you participate in one of these crimes. Depending on the amount that has been stolen, you could be facing anything from a first-degree felony to a third-degree felony. This type of conviction can have a damaging effect on the rest of your life, limiting your ability to find gainful employment, to find places to live or work, to own a firearm, and even your right to vote.  When your future depends on it, you need the help of an experienced theft crime attorney who can help you navigate the complicated legal system and build a rock-solid defense to the charges against you.

The lawyers at Musca Law have more than 150 years of combined criminal defense and trial experience.  We have successfully represented Floridians who have been charged with serious crimes for decades and we can help you too.  If you or someone you love has been charged with a serious theft crime, call the attorneys at Musca Law today to discuss your charges and find out what your options are.  Depending on the facts, facing these charges across Florida can be one of the most frightening things that happen to you. Especially when you have committed an especially violent act in Florida, you might find that it is difficult to move forward and you might be feeling helpless. We are not afraid to challenge your charges and fight to help you build the best defense and move forward with the best case results. Our goal is to obtain the results you deserve given the facts of your case. Do not hesitate to contact us to find out what we can do for you at (888) 484-5057.