Escambia County, FL (December 29, 2018) - A Pensacola man is behind bars today after a carjacking attempt at Pensacola Beach on Monday, December 24th.  Officers say that Nicholas Burke approached a vehicle stopped at a stop sign and opened the passenger side door.  He then asked the female driver if she was an Uber.

The woman replied that she was not an Uber and asked Burke to get out of her car.  Bure, however refused to leave the car.  The woman then exited her vehicle and attempted to pull Burke out of the car.  Burke then moved towards the center and eventually into the driver's seat.  The woman disabled the vehicle's start system and threw her keys out of Burke's reach before calling 911.

The woman was eventually able to get back behind the wheel.  While driving, Burke continued to chase behind her.   When authorities arrived, they located Burke and arrested him at a nearby Holiday Inn parking lot.  Burke was aggressive and threatened to harm officers during the arrest.

He was taken to the Escambia County Jail and charged with robbery and disorderly intoxication.
Pensacola Violent Crime Laws
In Pensacola, a violent crime such as robbery can land you behind bars for a long time. Robbery involves the taking of property through use of force or a deadly weapon. In Florida, first-degree robbery involves the use of a deadly weapon and carries up to life in prison.  Second-degree robbery does not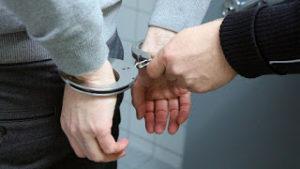 involve a deadly weapon but still carries up to 15 years in prison.  Robbery is one of the most serious violent crime charges that you can face in our state.

When you are facing a robbery charge, our Florida robbery attorneys at Musca Law are here for you.  Because of the serious consequences of a robbery conviction, you must obtain counsel at the earliest possible stages of your case.  Our Florida criminal defense attorneys will explore any mitigating factors and defenses that may apply to your case to help you obtain the best possible outcome and to help secure your future.

For your free consultation, please contact us at (888) 484-5057.