Flagler County, FL (December 23, 2018) - A 21-year-old man is behind bars following a shooting on Friday, December 21st.  Maurice Tyron Moultrie was taken into custody by the Flagler County Sheriff's Office in connection with the shooting on Bressler Lane.

According to reports, the incident took place around 10:00 am after Moultrie allegedly shot Kevonte L. Gillislee.  After being taken into custody, Moultrie told officers that he had gone to the area to purchase marijuana.  When he arrived, he said that Gillislee pulled a firearm causing Moultrie to take out his own weapon and shoot Gillislee.

Gilislee was taken to Halifax hospital after the assault.  He was conscious following the shooting and was able to identify Moultrie as the person who shot him.  He also provided officers with a description of Moultrie's vehicle.

Moultrie is in the Flagler County jail on a $35,000 bond where he has been charged with aggravated battery with a deadly weapon.
Flagler County Battery Laws
Under Florida law, aggravated battery is an intentional and unlawful touching causing great bodily harm.  Aggravated battery is also committed any time a deadly weapon is used during the incident. The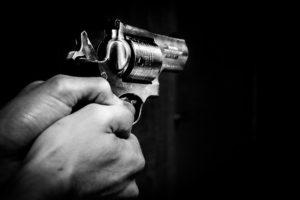 charge of aggravated battery is a felony that potentially carries up to 15 years in prison upon conviction.

When you have been charged with aggravated battery or another violent crime in Florida, you must secure the services of a good criminal defense lawyer immediately.  There may be certain defenses that apply to your case.  For example, an aggravated battery would be justified if you were otherwise acting in self-defense and had a reasonable fear for your own safety or the safety of others around you.  Under Florida's "Stand Your Ground" law, you may also have a defense if you are defending yourself from an assault or battery in a place that you otherwise have a lawful right to be.

Assault and battery cases can be complicated and very dependent upon the facts of your situation.  Do not jeopardize your future by hiring an inexperienced attorney.  If you have been charged with assault, battery, or another violent crime, the Florida criminal defense attorneys at Musca Law stand ready to defend you.  With over 150 years of combined legal experience, we bring the skills and knowledge necessary to help you out of a difficult situation.

For a free consultation, please contact us a (888) 484-5057.