Fort Myers, FL (June 15, 2019) - A former Florida Gators football player was arrested and charged with murder following the death of his girlfriend nearly three years ago.  The Fort Myers Police Department announced the arrest of Earl "Tony" Joiner on Saturday, June 8th.  
Police found the body of Heyzel Obando inside a Fort Myers apartment complex on Valentine's Day in 2016.  Obando's death was ruled a homicide but was unsolved before Joiner's arrest. Joiner and Obando were in a relationship with one another and had two children, who are now ages 3 and 6.  Joiner had been arrested for domestic abuse twice while he was in the relationship with Obando.  
Police have not released any details or information which led them to suspect Joiner in the murder.  Joiner played for Gators from 2004 through 2007.  He remains in the Polk County Jail at this time.  
Fort Myers Violent Crime Laws
Murder is the most serious charge that a person can face in our criminal justice system.  A person charged with murder faces the stiffest possible penalties, including life in prison.  A Florida homicide charge requires the killing of a person by another person.  There are three degrees of murder under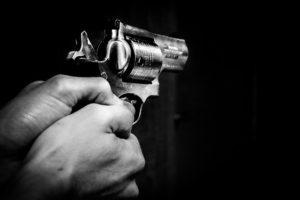 Florida law and your specific type of charge will depend on whether the killing was intentional and pre-meditated.  
If you are facing a Florida homicide charge, it is vital for you to hire the most experienced and competent counsel available.  Due to the very serious consequences of a murder conviction, you must have an attorney who brings skill and, most importantly, experience to your murder case.  At Musca Law, our Florida criminal defense attorneys have the necessary experience to handle the most serious types of charges, including murder.  We have successfully represented individuals charged with all types of crimes throughout Florida.
Our Fort Myers criminal defense lawyers will be there for you when you have been charged with a crime. We are available 24/7 to take your call and discuss the details of your matter. For your free consultation, please give us a call any time at (888) 484-5057.