Fort Walton Beach, FL (June 17, 2019) – Police have arrested 45-year-old Brian Titus after he choked a woman after the two became involved in an argument in Fort Walton Beach.
The Okaloosa County Sheriff's Office was called to the scene of the incident, where they found that Titus had wrapped his hands around the woman's neck and choked her. He also allegedly dragged her down the stairs while they were arguing.
A witness had seen the events take place and corroborated it with the statements being made by the victim.
When police investigated, they found the victim with bruises, redness to her neck, scrape marks, and more.
Titus has since been arrested and charged with battery and felony battery and is being held in jail on a $30,000 bond.
Fort Walton Beach Battery Laws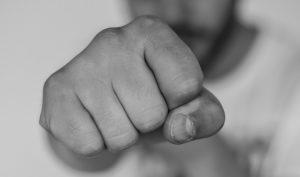 If you have been accused of battering somebody that you are close to, you could be facing a domestic battery charge in Florida. This might be one of the most confusing aspects you have ever endured and can be quite a scary reality to face on your own. This is especially true if you believe that you are being wrongfully accused of a battery crime. You might feel helpless as you face the reality that you could be spending time in prison, facing fines, or having to take anger management and a litany of other classes for your crime. It is imperative that you speak with an experienced attorney in your time of need.
Facing the aftermath of a violent crimes charge in Florida can be a frightening thing to experience, especially if this is the first time you have been charged with one of these crimes. Our criminal defense attorneys at Musca Law understand what you are going through and will help you when you are feeling hopeless. Please reach out to us for more information on your case at (888) 484-5057.