Jacksonville, FL (December 9, 2018) - The ex-fiance of a Navy Chief Petty Officer has been charged over a year after she was found dead.  Officer Andrea Washington, 37, was killed in September, 2017 and her body was discovered inside her home.  On Friday, December 7th police arrested 36-year-old Danny Ray Beard, II in connection with her murder.

In the weeks leading up to her death on September 17, Washington had filed for an order of protection against Beard.  She had accused him of threatening her with a firearm, pushing her and kicking her in the stomach.  Police had been called to Washington's residence at least once prior to the protective order filing.

Beard made his first court appearance in Duval County court on Saturday.  He did not enter a plea to the charges against him.  A judge denied his bond and set a new court date.  He remains in custody at this time.
Murder Laws in Jacksonville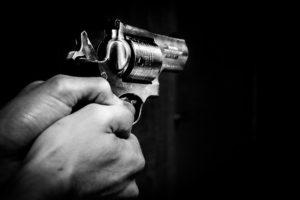 A Florida murder charge is the most serious criminal charge that you can face.  The penalties for murder depend on the degree of the crime.  There are three degrees of murder under Florida law.  The most serious level is first-degree murder.  First-degree murder is defined as the premeditated and intentional killing of another human being.  The punishment for a first- degree murder is death or life in prison without parole.  A first-degree murder can also be committed when another person dies during the commission of certain types of felonies, otherwise known as the felony murder rule.

Second-degree murder is the killing of another human being with a depraved mind or reckless indifference to human life  The difference in second degree and first-degree murder lies in the fact that second-degree murder lacks the premeditation element of first-degree murder.  Second-degree murder is punishable by up to life in prison.

Third-degree murder is defined as the unintentional killing of another person during the commission of certain types of felonies.  The underlying felonies which make up third-degree murder are codified in the Florida statutes and are all of the felonies which are not part of the first-degree felony murder rule.

If you or a loved one have been charged with murder or a violent crime in Jacksonville and other surrounding areas, you must have the best possible legal representation.  There are several defenses that may apply to your case, including self-defense and defense of your home and property.  Additionally, a murder case often involves police and detective work that must be carefully scrutinized by a good criminal defense attorney in order to determine whether there were errors made in the investigation.

At Musca Law, our Jacksonville violent crime attorneys bring over 150 years of combined experience to assist you when you are facing an uncertain future.  For assistance today, please call (888) 484-5057.