Jacksonville, FL (November 17, 2018) – A Jacksonville man will face life imprisonment after being charged for holding a man at gunpoint by a Northside bank and stealing a car.

Based on the report from the State Attorney's Office, jurors convicted 28-year old Michael Anthony Barr, Jr. for one felony charge each for armed robbery (possessing a firearm) and grand theft auto.

According to police sources, Barr had been waiting, rifle in hand, outside the bank and observed the man taking money out of an ATM in the vicinity of Lem Turner Road and Edgewood Avenue at approximately 2:45 AM on May 3, 2018.

At some point, Barr robbed the victim at gunpoint and stole his truck.

Two hours after the incident, police officers found the stolen truck on Normandy Boulevard. Barr was sleeping behind the wheel, and the loaded rifle had been tossed in the back seat.

Barr has been labeled as a prison release offender, a primary indicator for his life sentence. His sentencing has been scheduled for December 21, 2018.
Weapons Crime and Theft Crime in Jacksonville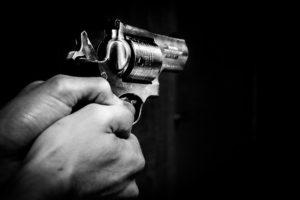 Overall, the State of Florida has multiple offenses for weapons crimes, which can ultimately fall under the categories of misdemeanors or felonies. If a person is found guilty of committing one or more of these acts, this individual can face long-term imprisonment and large fines. Brandishing firearms while another crime is being committed can also qualify as a weapons crime.

As outlined in Florida §812.014, an act of theft is a situation where a person takes or uses a piece of property owned by another person to prevent the rightful owner from having access to this property for a personal advantage. Depending on what kind of property was stolen, the charges can vary from petit theft (1st and 2nd degree) or grand theft (1st, 2nd, and 3rd degrees).

Simultaneously facing charges for weapons crime and theft can be a terrifying and distressing part of your life, which is why you need a professional, dedicated criminal defense attorney on your side to help you every step of the way. Here at Musca Law, we have a combined experience of 150 years of criminal defense experience. If you are charged with weapons crimes or theft and need legal assistance, contact us today at (888) 484-5057.