Jacksonville, FL (December 3, 2018) – On Thursday, authorities were called to a home located in the East Arlington area with reports of shots fired.   A man was subsequently arrested and later identified as 33-year-old Stephen Holzbacher who allegedly shot two of his neighbors in a dispute.

The two victims have been identified as Robert and Abraham Bibeau.  Robert is 64-years-old and his son, Abraham, is 26-years-old. Stephen Holzbacher walked from his house to the victim's residence where he entered their garage and started firing his weapon while telling the two men that he was not going to allow them to "keep (expletive) with him".   He shot Abraham first, in the left side of his chest.  Thankfully, Holzbacher's gun misfired with his first attempted shot which was aimed at Abrahams' head.  Holzbacher then turned and shot Robert through his leg.   He also fired additional shots at Sophia Bibeau but thankfully he missed her and instead the bullets went through the door in the house where she ran to hide.

Holzbacher then went back to his home and barricaded himself inside for 90 minutes following the shootings.  The SWAT team was called out to Holzbacher's residence to aid and assist with his apprehension.   The reason that the shootings occurred is not clear at this time but police do say that there was a dispute several months ago that involved Holzbacher's dog attacking the victims' dog.  Animal Control has been called to Holzbacher's residence quite a few times in the past two years.  Both of the victims are expected to survive the attack.  Holzbacher was in court on Friday and has been charged with attempted murder.
Jacksonville Attempted Murder Laws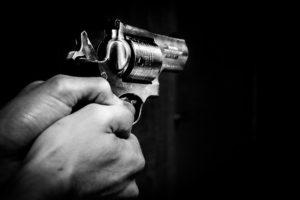 Under Florida law, attempted murder is taken very seriously even if the suspect didn't follow through with the offense. When the intent is there, the courts see this as an extremely violent crime and it can have a serious impact on your life and lead to harsh penalties. This means that you could be facing long prison time, fines, and many other penalties that can completely affect your life and the way you live it.  An experienced Florida criminal defense attorney can help you created the best possible defense and make sure that you get the best results possible. 

Violent crimes involving dangerous weapons are punishable crimes in Florida that can lead to a long incarceration if you are convicted.   That is why you should always seek the assistance of an experienced criminal attorney.   At Musca Law, we have a specialized team approach and work closely with all our clients throughout the entire legal process. When you choose Musca Law, you are choosing an experienced team of criminal trial lawyers to work on your behalf and build the best defense possible to protect your rights. Contact us today for a free case evaluation and to find out how we can assist you at (888) 484-5057.