Kissimmee, FL (December 13, 2018) – A 65-year-old resident of Kissimmee, Jay Gorberg who is a retired law enforcement officer from New York, was charged in Kissimmee for a domestic battery after an alleged incident involving his wife on Sunday, December 9th.

On Sunday, the Polk County Sherriff's Department received a 911 call from a resident who witnessed a 65-year-old woman running from her home screaming for help and saying that someone was trying to kill her.

When deputies got to the scene, they spoke with the frightened woman who told them that she had been assaulted by her husband, Jay Gorberg.  According to the woman, her husband choked her, slammed her against a wall, and pulled a knife on her before he attempted to restrain her with handcuffs and attempted to place a rope around her neck.  She was able to the flee the home and run outside to get help. 

Gorberg refused to come out of his house for more an hour and a half.  When he did finally surrender, he was immediately placed under arrest.  He has been charged with aggravated assault on a person 65 years or older, false imprisonment, and resisting arrest in regards to the case.
Kissimmee Domestic Battery Laws
Domestic violence battery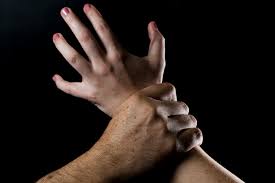 is one of the most commonly prosecuted crimes that involves the assault of a family member. This type of crime is prosecuted aggressively under Florida law by trained prosecutors who have years of experience prosecuting the perpetrators of these dangerous and traumatic scenarios in the past. If you have been arrested for domestic battery for the first time, you could be facing up to a year in prison, one year of probation, and a $1,000 fine. However, if the charges are aggravated, you could be subject to more severe penalties. 

Being charged with a crime with violent intentions in Florida might be one of the scariest things you will ever experience. If you have been charged with domestic violence, you might be wondering how you can avoid these serious charges.  At Musca Law, we want to provide you with a high level of personalized service to help you understand all of your legal rights as you go through this difficult and complex process. With offices located throughout the state of Florida, we are here to help you aft you have been charged with a serious crime. Contact us today so that we can help you get started on your case at (888) 484-5057.